12 Mar

Getting started with Handlerz : Reliability, reputation and rewards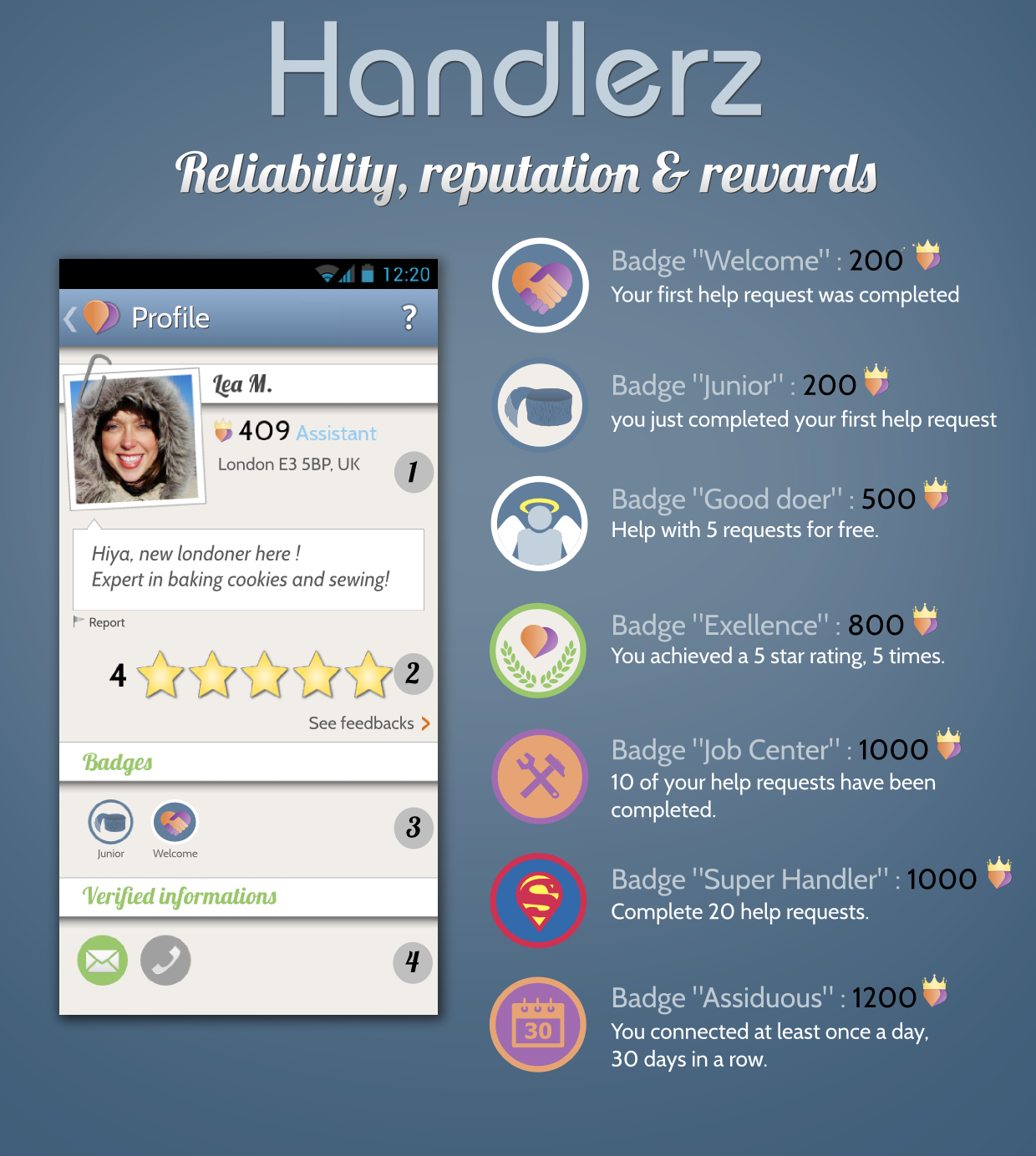 The service that we provide with Handlerz is simple and reliable. We have gathered all the necessary ingredients to put together a friendly help community, based on mutual trust.
1– Each member of the community is allocated a status based on their Handlerz score (on the picture above, Lea has 409 points : she is therefore Assistant). This status gives a good insight on the experience level on Handlerz. These statuses are listed below :
"Newbie" : from 0 to 20 points
"Learner" : above 20 points
"Assistant" : above 100 points
"Confirmed" : above 500 points
"Copilot" : above 1,000 points
"Right Arm" : above 2,000 points
"Good Samaritan" : above 5,000 points
"Guardian Angel" : above 10,000 points
You will earn points by doing various actions on the application :
+2 : Each time you connect to Handlerz
+5 : You had your email address from your user profile checked
+5 : You had your phone number checked
+5 : You posted a help proposal
+20 : You leave feedback on another user
+50 : Your help request was completed
+100 : You helped another user with his request
+200 : You helped another user, for free !
Apart from these actions, earn badges will give you extra points !
2– Who is this user who is offering his help, or to whom I am about to offer mine ? Get insight on the user profile directly and get to know him before even meeting him by reading the feedback left by other users ! Each time a user offers his help, a feedback is left on his profile to let others know how it went. This improves the quality of the community and is the best proof of our users' reliability !
3– As an incentive to the users to get involved in the community, there are different badges to earn within the application. These badges are listed on the picture above (as well as on the "badges" section of your user profile). These badges are also an indicator of the experience and the seriousness of a user.
4– For even more reliability, Handlerz offers its certification: you can check which information have been certified on his user profile. If both icons are green, it means that their contact information are certified by Handlerz. This ensures that your contact didn't make a typo on their contact info, or didn't provide a fake email address or phone number ! Thanks to all these indicators, you can also quickly get an idea on your interlocutor, before asking or offering help. Handlerz is the free service network on which you can truly rely !
You want to contact us, ask us a question, or even just say hi ?
send us an email on contact[at]handlerz.com.
The  Handlerz team